CIC's Master's and PhD program: Upon acceptance
Congratulations! Here is some important info to continue with your travel and enrollment.
---
---
Communication
The committee may be slow in responding to your questions. When you feel that something was to happen (such as receiving your acceptance letter or information on your visa) but you don't have news about it, please send them a message. If they don't respond in reasonable time, send a message to your advisor. If he or she don't respond in reasonable time, or if the thing is urgent, ping them on Skype (mine is gelbukh) or WhatsApp (mine is +52 55 1810 4587).
Conditional admission
If you are marked in the list as CONDICIONADO (conditional acceptance), please contact the committee or the administration (or me) for the reasons: what specifically is missing in your case.
If you cannot meet the requirements by the deadline, the committee will likely keep your acceptance to the next semester. However, if you miss the next semester either, then you will probably need to repeat the admission procedure.
Admission is only the first step
Admission is not yet a guarantee of enrollment and eventual scholarship. Even if you are admitted, you will still need to comply with a number of formalities and produce a number of documents upon arrival. Without these documents you will not be enrolled and will not get the scholarship. For example, if you did not provide an English exam certificate to the admission committee and have been admitted, it does not mean that the committee waived this requirement: you will not be enrolled without it.
In particular, at the moment of enrollment (upon arrival), you will need to produce the following documents:
Legalized documents (see below);
An English test certificate (see below).
Apart from the English test certificate, you will need to produce the following documents, in hard copy original, legalized:
Birth certificate,
BSc transcript,
BSc degree,
MSc transcript (for PhD),
MSc degree (for PhD).
If your country has apostille, then by legalization I mean just apostille. But if not, then legalization is not the same as notary certification: legalization is a process involving both countries; thus it is done partially in your country (such as with your Ministry of Education) and partly in one of two embassies: the Mexican embassy in your country or your country's embassy in Mexico. Please call the relevant embassies and ask for the procedure. See more details here.
The English test can be such as TOEFL, IELTS, CENLEX, or a few others that are accepted. It should be valid at the moment of enrollment (and some weeks more); most tests have validity of two years (please check yours!). There is an additional process of validating your certificate, so please send it to the committee as soon as you have it, even if before you arrive to Mexico.
Time for travel or postponing your enrollment
To get your scholarship, you need first to be enrolled; if you miss the enrollment process, then you probably miss your scholarship (even though you might get late enrollment, but it will likely be too late for the scholarship).
Enrollment has its specific deadline (for Spring 2021, it is/was February 19). This might (or might not) be flexible but not much. Before enrollment, you need to do some immigration formalities without which you cannot pass the enrollment procedure. They can take from several days to several weeks, with exact duration being rather unpredictable and probably different in different years. In recent years, four weeks were considered as rather safe, three weeks as probably doable, and two weeks as too risky (but ask your advisor for more recent info).
If you cannot arrive in time for the enrollment, your admission can be kept to the next semester. Please coordinate this with the Academic Vice Director if you feel you cannot arrive for the time of enrollment.
Obtaining the Mexican visa
Your main contact for the visa paperwork is our Vice Director (at the time of writing this, Dr. Moisés Salinas).
Documents involved
There are two channels that must meet. For you to obtain the visa, the Embassy that will give you the visa needs two different documents – both of them: (1) the orders (some list with your name) that it will receive directly from the Ministry of Foreign Affairs of Mexico, and (2) the hard copy original (that is, the original document) acceptance letter from your hands.
So, upon acceptance, the Vice Director should do two different things: (1) apply for the permission to the Ministry, which upon much paperwork (which can take from a couple of weeks to a couple of months or even more) should send an order to the Embassy, and (2) send you the hard copy original acceptance letter. If the Embassy has only one of these two things (one received via the Ministry and one from your hands), it will not give you the visa.
Choose a Mexican embassy. You can receive your visa in any Mexican embassy in the world. For them to have fewer questions, the best is the embassy in your country of residence or the one officially responsible for your country (such as Iran for Pakistan), however, you can choose any other country to which you can travel legally. This is especially relevant if the country where the Embassy is happens to be closed for you because of COVID; then investigate to which country you can surely travel. Note that this choice will be very difficult (or impossible) to change later, so make a very well-informed choice:
Does that country issue tourist visas? If not, contact their embassy and figure out whether they will give you a business visa for visiting the Mexican embassy in their country (this was the solution for Pakistani applicants visiting Iran).
Are there flights to that country?
Do you need to be vaccinated in order to visit that country?
When sending your passport and address (see next paragraph), very clearly indicate in which country you wish to receive your visa.
Send your passport and your postal address. To process your visa application, the CIC will need a copy of your passport (main page) which you will use to receive your visa. I advise you to send it immediately to the official address (indicated in the call) with a copy to the Vice Director (at the time of writing this, Dr. Moisés Salinas) and the persons you have communicated with during the submission process (including your advisor).
Also, indicate your complete postal address where your admission letter can be sent by DHL, UPS, or a similar urgent mail service. Please include your mobile phone.
Request the data from CIC. Some embassies (such as the Embassy in India) ask you for (1) the date on which the CIC submitted the documents to the Ministry of Foreign Affairs of Mexico and (2) the corresponding reference number, because they will search for your application by these two fields and not by your name. When you guess the Vice Director has send your application to the Ministry, contact him and ask for these data. (If you don't receive an answer in reasonable time, ask your advisor or ping them on Skype.)
In addition, the Embassy may require you to show a copy of the passport of who signed the acceptance letter. This is probably the Director of the CIC, Dr. Marco Antonio Moreno Ibarra; you do not communicate with him directly, but it is he who signs the official letter in the name of CIC. When contacting our Vice Director (Dr. Moisés Salinas), also ask him to send you this document.
Booking the date for the interview and travel
Call the Embassy and ask how you can know when they get the order from the Ministry about your visa. Some embassies will probably not contact you -- it's up to you to guess whether they have it. Then (1) wait for your hard copy acceptance letter. Upon receiving it (or a bit earlier), (2) keep calling the Embassy every several days to ask whether they have received the instructions from the Ministry with your name. When you are sure they have received it, only then you should travel to the Capital for your visa interview.
On the other hand, sometimes the interview dates are fully booked for many weeks. If the time is pressing, I advise you to book an interview for the date when you expect both things (orders from the Ministry and your letter) to be ready (a couple of weeks after the CIC applied to the Ministry, plus some margin). Call the Embassy before you travel to the Capital. If they don't have the orders, then there is no point in traveling to the Embassy: cancel the appointment (for the Embassy not to get angry with you) and book another date. If you can and if the time is pressing, you may even book more than one date: say, in two-three weeks after the CIC has applied to the Ministry, book an appointment for every week. When you get your visa, cancel the unused appointments.
Note that to visit the Embassy, you may need to obtain a visa to the country where the nearest Mexican Embassy is (such as Iran for Pakistani citizens, India for Bangladeshi citizens). Do it in advance. Under COVID, some countries do not issue tourist visas needed to attend the embassy. You can try to apply for a business visa then, justifying it with the "business" of visiting the embassy and showing your invitation letter as a proof.
Pakistani citizens: If you are obtaining a visa to Iran from Pakistan, you will probably have to do it via an agency (it should cost some 30 USD); in theory you could obtain it directly from the embassy without paying to the agency, but in practice the embassy only tells you to wait for your information to appear on the website, where it would probably never appear. You might be able to obtain your visa in a country easier to reach (such as UAE for Pakistan); I would advise to avoid the Embassy in Iran.
Transit visas
Check in advance if you need transit visas to travel from your country to Mexico. Obtain them in advance.
Also check if there are convenient routes with layovers in the countries where you do not need a transit visa (say, you might prefer traveling via Brazil, Panamá, or Cuba instead of Europe). Check if there are tickets available for those routes. Note that whether you can pass via a country without a transit visa (if this country requires a visa to enter its territory) may be very tricky to figure out. This may depend on whether the specific inbound and outgoing flights are to/from the same airport, the same terminal of the airport, and whether the physical configuration of the airport allows passing from arrival to departure without leaving the transit zone. For example, the El Dorado airport in Colombia does not have such a pass, even if both arrivals and departures are located in the same building. In La Habana, Cuba, I once had to go from one terminal to the other at the same airport via city transportation (and nobody warned me about this before departure). I think I had a similar experience in France. On the other hand, the Tocumen airport in Panamá seems to have only one space for all arrivals and departures, without any passport control (but I am not quite sure).
Note that some flight to Mexico can arrive to Cancún instead of Mexico City. These flights might be through countries for which you do not need a transit visa or can obtain it easier. Thus, when looking for flights, try looking for flights from your country to both Mexico City and to Cancún.
Return ticket
The visa that you will get from the Embassy is not for the complete duration of your stay in Mexico. There will be a separate process of obtaining a stay permit in Mexico, which will be initiated upon your arrival; you cannot initiate it before arriving to Mexico. The visa you obtain at the Embassy only permits you to enter Mexico in order to be enrolled and to start that another process. I think they will give you a visa for half a year, but please check: in some cases it was only 30 days.
Some officers at the airport ask for a return ticket. Some insist that it must be within the duration of the visa, and some even insist that it must be within 30 days from arrival. This seems to be very inconsistent and seems to depend on the mood of the specific officer; in most cases they do NOT ask for a return ticket, but in some cases they did. Without a return ticket you might even not be allowed onboard. The logic of the authorities in such cases is: you want to stay in Mexico for several years and you probably will obtain that permission, but at the moment of the entry you do not have it, so what will happen if you don't obtain it? – then your visa will expire, but you will have no way to leave the country, since your ticket has a fixed return date later than that. So they will just not allow you to enter the country.
So, your options are:
To use a service that provides booking with delayed payment or a ticket that you can return within several days with full refund. Some of our students did it and it worked, but for some it did not (see below). Please contact me for more details. However, I don't know whether the border authorities would accept booking instead of a real ticket, or whether a fully refundable ticket is really the same as a normal ticket.
To ignore the problem and have one-way ticket. This might (or might not) cause problems, from delays to refused boarding or even deportation. You may (or may not) be able to buy the return ticket at the moment if they ask for it, if you have enough funds on your credit card.
To buy an (expensive) ticket with the possibility to return it and get a full refund after you pass the border control (check well the refund conditions);
To buy a ticket with open return date (expensive);
To buy a (cheaper) ticket with a return date before half a year or within 30 days (you will probably just waste it).
A real case with booked return ticket: one of my students booked a return ticket with delayed payment, without yet paying it. At a connection airport (it was Istanbul) she has deposited her luggage, passed all control points and were about to board to the direct flight to Mexico. Already at the gate the officer checked her return ticket and found via their database that it was booked but not yet paid; so he denied her boarding some minutes before closing the gate. Fortunately, at that moment she had data roaming and had enough funds on her credit card, so she managed to pay it front of the officer, and the officer was kind enough to check the database again and to allow her boarding. However, if she had not enough battery, a problem with data connection, insufficient funds, or the officer were not so kind, she would be deported back to her country, even without her luggage (which was already loaded for Mexico).
COVID test
Please check which type of COVID test you need to show upon arrival and at all connection flight. For example, even when Mexico did not require a test, some connection airports (such as Istanbul) did, with some specific validity period. You might need to show it printed in hard copy. English might be enough, but if you can get it printed in other languages (such as Turkish for Istanbul connection), better. The information about COVID tests is changing quickly, so please be sure to check before your travel.
Formalities at the airport upon arrival
Citizens of some countries may have complications at the passport control even if they do have a visa. Just in case, please have my phone / contacts written down (see my site), and also, in case if I am not in the city at that moment, ask other contacts at the CIC to provide you their phone numbers (such as the Committee coordinator and the Academic Vice Director – people with whom you surely had much correspondence before); I also can provide you their numbers. In the case of complications, ask the authorities to call them. Keep calm: after checking things with those people, the authorities should allow you to pass. This is a normal security procedure.
Please also have with you your acceptance letter (better in hard copy original); if it is easy, have in your laptop off-line copy of email exchanges with the officials of the CIC; if possible, have your bank statement as a proof of financial solvency. Have your documents in the cabin, not in the luggage, because passport control is before luggage collection, and you even may need to show your documents when boarding or at connections. If possible, have a phone card known to have roaming in Mexico.
Female travelers: I have heard that in Mexico it is undesirable for female travelers to undergo passport control with female officers; I don't have more details. If possible, try to skip your turn and go to a booth with a male officer. But be careful not to behave suspiciously: to skip your turn you can, say, pretend that you are looking for the passport in your handbag, or that you have not finished filling in the form, etc.
VERY IMPORTANT: When filling the immigration form at the airport on arrival at Mexico City, you should choose the option CANJE and indicate a period of 30 days (print this out or copy it to your phone for your reference at the airport: you might not have internet connection there):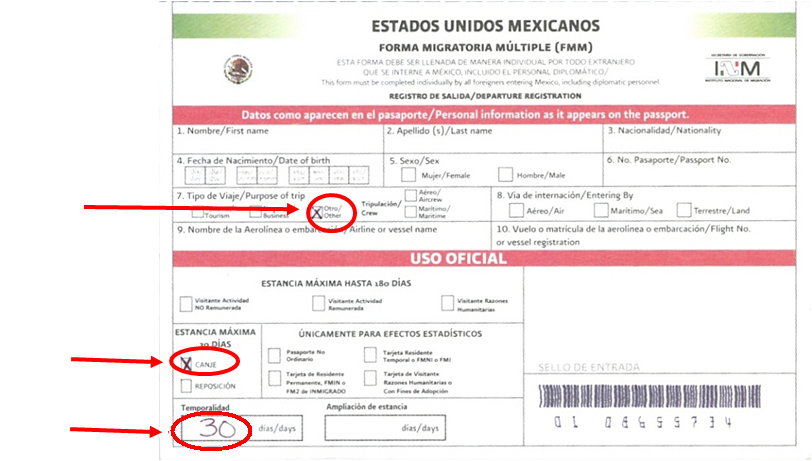 Please keep this form (or a form that they will give you at the airport instead of this one). It is very important for you to produce this form when applying later for the stay permit (extension of your visa). Also, to immediately proceed with your further immigration process, upon passing the airport formalities, send to your advisor a photo of (1) this form, (2) your Mexican visa from your passport – double page, even if the other page is empty, (3) the main page of your passport – also double page.
You may also contact our international students for the details of the process immigration process: things might have changed since the time when I wrote this.
Accommodation in Mexico
We might have available rooms; please contact me for details. If we have a room, this would be the best option.
Or, when the arrival date is clear, please ask me to put you in contact with our international students for the lodging options.
As a last resort, we usually have available cheap (but far from comfortable) rooms that you can use for the first weeks, until you find a better place. Usually our students do not like these rooms and change to another place after the first month, but it gives them the time to search for better options. Please ask me if you are interested in this option.
More information can be found on the page on accommodation of our International Students Association.
Scholarship and money
Scholarship application will be processed after your enrollment (which is after your arrival): only enrolled students can apply for scholarship. Then, the application will be processed and the funds assigned. All this takes time. Please be prepared that your scholarship will arrive (retroactively, that is, the full amount counted from the first day) only in up to some 3 months. It is advisable for you to have your own money for some 3 months of stay in Mexico. The amount could be: some 100 USD per month for very cheap lodging (200 USD for a better option), some 300 USD per month for food, and some 50 USD per month for transportation; around 500 USD per month in total, so have some 1500 USD with you. If this is a problem, please contact me to discuss possible options.
There will be a fee of some 100 USD (MSc) or 200 USD (PhD) per semester, so please have this one ready, too. This is a much smaller sum than the scholarship.
The scholarship is a fixed sum meant to cover all your relevant expenses, so there is no separate payment to cover any specific expenses, such as your ticket, lodging, or tuition fee. Note that the scholarship is much larger per year than all those expenses, even including your ticket.
Local information
Electricity in Mexico is 127 volts (110 volt appliances should work); the plug types used are shown below. If you bring electronic devices, then before arrival – in your country or in some airport – try to buy an adapter to the American type of socket. In Mexico, adapters to the type of plug in your country might not be available or might be difficult to find. For phone charging, it may be cheaper to buy here a USB charger (shown below) than an adapter for your existing charger.
Type A socket, found in all homes.
This plug can also be used in type B socket
(in the school).
Type B socket, found mainly in the school.
This plug can be used at home with an adapter,
for example, such as the one shown next.
Adapter from European plug
and from type B (laptop)
to type A (home sockets).
USB phone chargers,
cheap and easy to find
in Mexico.
Phone SIM card: Depending on the circumstances, you may need to buy a SIM card at the airport. The main cell phone operator is Telcel. I advise avoiding other operators, such as Movistar or AT&T: most people in the country use Telcel, so calling them from another operator may be problematic or more expensive.
Emergency number: 911; it can be dialed from any mobile phone for free. Please have the phone numbers of the contacts in Mexico (mine, of the Vice Director, etc.) handy, written on paper (in case if your phone battery dies).
Tap water is not potable; you should buy bottled water. At home, I use a filter; in the long run this may be cheaper than bottled water.
In winter, it can be rather cold in the room. Mexican buildings have no heating and weak thermal insulation: when it's +10°C outside, it's +10°C inside. Mexico City is located high in the mountains, so such temperature is not uncommon in winter.
Enrollment and further immigration formalities
Upon arrival, you will be instructed by the administration as to the further formalities, such as obtaining your CURP ID number. This may take up to a month and needs to be done before the official enrollment deadline. The Institute will manage your immigration formalities. You will be put in contact with a lawyer, who will accompany you to the Immigration office (called INM), with all your original documents (including the form that you filled in at the airport), where your fingerprints and a photo will be taken and the stay permit will be applied for. The stay permit will be a plastic card that allows you to stay in the country for a year (then the process is repeated). Always have this plastic card with you.
Please have with you all relevant original documents (not just copies), such as your BSc and MSc diplomas and transcripts, as well as your birth certificate. Please make sure before you leave your country to have all the stamps (such as apostille and/or Education Ministry stamp, if this is your case) that need to be obtained in your country. Translation of your documents into Spanish can be done upon your arrival; please contact me for this.
Contact with other students
I can put you in contact with the international students of our Laboratory.
Also, we have an International Students Organization (ISA) of our school, mainly also led by the students of our Laboratory, where you can ask for help or find useful information. We also have WhatsApp and Facebook groups for international students; you can contact the ISA to join these groups.
Taking notes and helping us to complete the Student Handbook
We have an informal student handbook written by the students of this Lab, which someday will be a compendium of all information a student should know about the CIC, the trajectory (from application, legalization, and immigration formalities to graduation and obtaining the diploma), the country, etc.
Please help me to complete the text and to maintain it current when things change. Please take notes on all procedures you do, and send me pieces of text to include on the page, indicating where they should go. Please use the subject line "Student handbook", for me to search for it in my mail. (When you send me something, please let me know in person or on Skype or WhatsApp. I may not read email.)